WE ARE
SUPERION
Superion Technology is an industry leader for ASIC & FPGA Design Services and Consulting. Our U.S.-based team has over 15 years of experience working together on advanced chip design projects in a variety of domains.
From day to day interactions of the engineering teams to the communications with project managers and executive leadership, customer service is always our top priority. We work hard to give you the best end result and the best experience working with an outside design team. When you need a partner you can trust with your ASIC or FPGA design, Superion Technology is your most valuable resource.

Innovation
We are focused on creative and innovative solutions for architecting, implementing, and verifying high-complexity chips.
Execution
Superion's team can deliver world-class project execution rivaled by few other services companies in the industry.

Delivery
Our team exceeds expectations for design quality and customer satisfaction. We communicate with transparency and integrity throughout the project.
A Full Range Offering for ASIC, FPGA and Embedded Solutions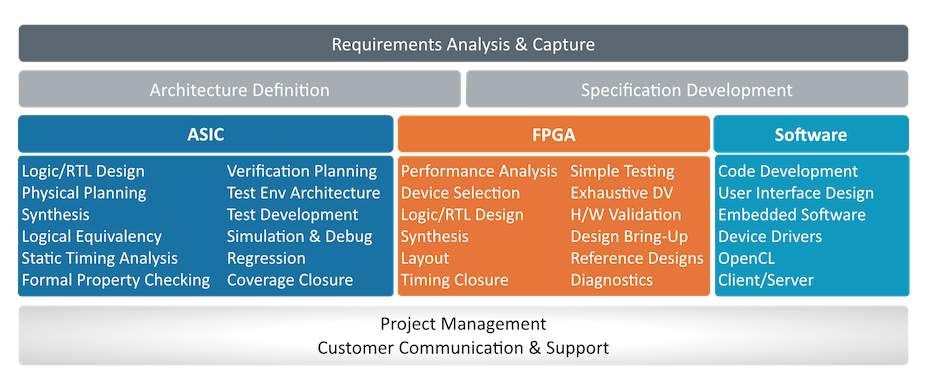 Get the details by clicking on the diagram above or Click Here.
Some Things We Have Been Saying
FPGAs in Embedded Systems
We had the honor of speaking at 2015 ESC Minneapolis on the topic of SoC based FPGAs and high-level design flows.  Our topic was "FPGAs in Embedded Systems:  It just keeps getting easier."
UVM Is Not Enough
We recently crafted a blog post titled "UVM Is Not Enough: Design Verification is more than just methodology." The post introduces that introduces our belief that while UVM is certainly state-of-the-art for doing verification, there is much more to successfully verifying complex designs.
What Our Customers Are Saying
Superion provided us with one of the best consulting and design services engagements we have experienced. Their team brought the expertise we required at a very important time in our product rollout. Superion's ability to quickly adapt and flex to our needs allowed us to complete the tasks that needed to be done and ultimately added value to our final offering.
Steve Mensor
Vice President of Marketing
Achronix Semiconductor
Superion performed a specialized memory controller design for us last year. The design was completed on schedule and on budget, and worked well. The Superion engineer who did the work was thorough and a good communicator, and did a high quality design. I will not hesitate to call on Superion again when a need for their services arises.
Marty Deneroff
Chief Operating Officer
Emu Technology
ViaSat contracted with Superion to provide design verification services for a component of a key project. The project was at a critical phase and under intense schedule pressure. Superion's ability to quickly understand the challenges facing our team, assimilate to our development environment, and apply the right mix of design and verification expertise was exactly what we needed.
Chris Rose
Systems Engineer
Mgr. Data Products
ViaSat, Inc.